Brighton & Hove Unusual
On the one hand running a bus company is based on routine and repetition, with buses providing pre-scheduled timetabled services every day travelling up and down the same roads hundreds of times a week. On the other hand there are always surprises in store with the unexpected on the road and the unusual operations often tried out as an experiment. This section includes some examples of the latter over the last fifteen years at Brighton & Hove.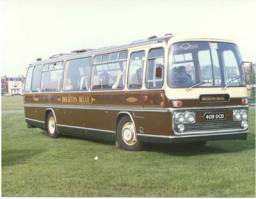 The Brighton Belle was an old Plaxton bodied Leyland Leopard coach which had been re-fitted by Southdown to luxury executive format and christened the Southdown Diplomat. On the break-up of Southdown in 1985 the Brighton based vehicle came to the Brighton & Hove fleet where it was renamed Brighton Belle and carried out many interesting hires for clients. For a while it was used on a successful day-out package which included a day's shopping in Harrods, a sightseeing tour of London and waitress service of hot drinks on the journey up and back.
The number 21 has been used for a number of different routes throughout the conurbation over the years. For a while it was associated with a local service running between Southwick and Shoreham. This photograph shows a Bristol VRT in a special yellow livery used for a service running between Brighton and Newhaven along the coast road. For a time after Brighton & Hove ceased its involvement in operating a bus on the Brighton to Portsmouth service, one bus an hour was extended along the coast to run a through service as a 21 from Newhaven to Shoreham. The service did not prove popular enough for it to continue.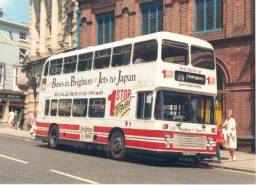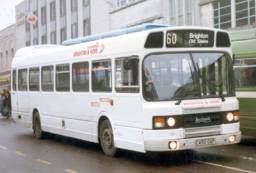 Brighton & Hove's fleet have appeared in a number of different colours over the years. Many years ago buses were painted in the colours of corporate advertisers then for a while special adverts for Brighton & Hove's own products appeared. Some buses have also appeared in an all white livery from time to time too.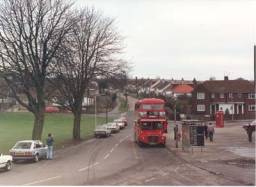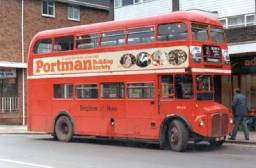 Some bus operators felt that deregulation would lead to a return to conductor operated buses as they looked for ways to speed up boarding times. Many people often comment on the idea of a return to conductors. Brighton & Hove hired a London Routemaster bus to test it out in practice. The results showed that journey times were not much quicker and the steps on these older buses were particularly unwelcoming.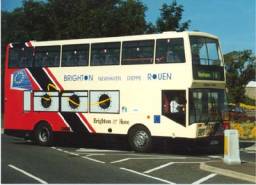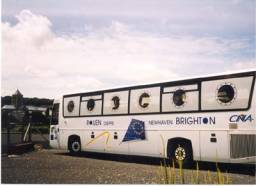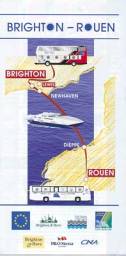 One of the longest day trips available on a Brighton & Hove bus was in the summer of 1999 when a new service was introduced running between Brighton and Rouen in northern France. A Brighton & Hove bus provided the journey from Brighton to Newhaven, P&O ran the ferry link across to Dieppe and French bus company CNA took over for the final leg to Rouen. The service didn't attract enough passengers – many were put off by the long day not helped by the hour time difference.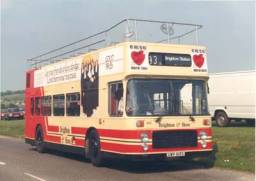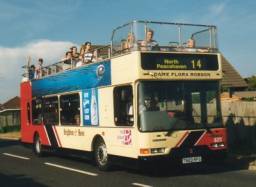 Open top buses have featured in the history of Brighton & Hove. Going back many years there were regular sea-front services between Rottingdean and the King Alfred in Hove as well as a long established tradition of summer services to the Devil's Dyke. Brighton & Hove have also experimented with circular open top routes around the Downs in East Sussex as well as a link-up with a minibus service which took ramblers deep into the Downs for a Sunday walk. The open-top Bristol VRTs were often used on the special shuttle Service 93 linking Brighton Station with the Race Course on race days. In 1999 two Dennis Tridents were purchased in convertable open top format followed in 2003 by two Scania Omnidekkas. These have been used together with a Scania Cityzen and a Dennis Trident in permanent open top format on the City Sightseeing franchise since 2008 as well as on route 77 to Devils Dyke in July and August.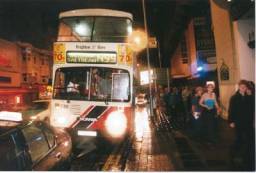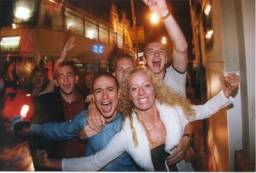 Night buses have now been a part of the Brighton & Hove transport scene for some years. Much appreciated by the town's clubbers they provide a journey home at excellent value for money. Regular seven nights a week cross-city route N7 and N25 began in 2004 and 2006 respectively and the Night Club bus network was extensively revised in 2012 with new journeys on an N1, N2, N5 and N14, joining the N12 and N29 and a renumbered N40.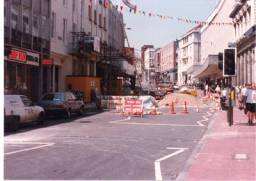 While roadworks are commonplace major road closures are fortunately rare. North Street – the principal road with over 90 buses an hour in each direction – was closed from 26 May 1990 for a few weeks due to a dangerous building.
Brighton is no stranger to events along the seafront where rallies are regularly held for all shapes and sizes of vehicles during Summer Sundays. On 6 July 1994 the town played host to an afternoon of the Tour de France. This entailed the complete closure of seafront and town centre roads with the town effectively severed into two. Special bus terminals were set up at Brighton Station and in Roedean. The very first Brighton Marathon was held in April 2010 and necessitated similar road closures.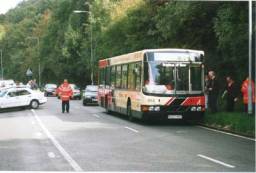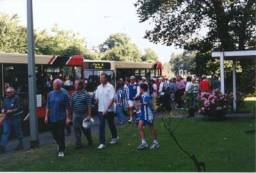 Since 1999 Brighton & Hove have been involved in a major Park and Ride operation to take Albion football fans to their temporary ground at Withdean. There's an effective cordon around the area preventing car access and public transport plays a key role in bringing fans to the ground. When the new Community Stadium opened in 2011 buses became even more integral to the success of tghe transport arrangements with around 40 buses providing 3 Park & Ride routes and 3 extra city services. Buses are contracted in from Sussex and London to help.
At the end of the 2000/01 season the Club celebrated becoming Division 3 champions with an open-top bus parade along the seafront from the Brighton Pier to Hove Town Hall. One of the two convertible Dennis Tridents, 819, was specially named after team manager Micky Adams and top goal scorer Bobby Zamora for the trip and stayed on the bus for the following few weeks.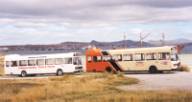 When Brighton & Hove buses come to the end of their useful life on the City's streets they are often snapped up by smaller bus companies in other parts of the Country who have heard of our reputation for quality maintenance and good service. Now that reputation has spread many thousands of miles south as far as the Falkland Islands Tours & Travel Ltd. They were so pleased with the first two single deck buses they purchased that they took two more to join their fleet ferrying people from Port Stanley around the Island. We wonder if they also charge a £1 flat fare as was advertised on the buses before they repainted them!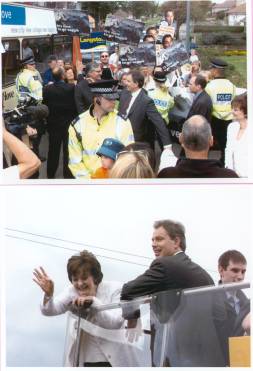 In June 2001 a special order came in for the hire of an Open Top Bus by none other than the Prime Minister Tony Blair, the bus was used to tour the area and rally up support.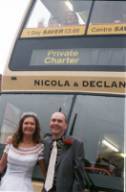 In January 2002 we had a request to have the names of Nicola & Declan to be added to a bus for a Wedding Party to really make the couples day. The bus was used on the day to transport guests from the Church in Portland Road to the Reception at Brighton Racecourse.
In 2003 two buses were delivered in a special gold version of the livery to celebrate the Queen's Golden Jubilee, they were named Queen Elizabeth II and Prince Philip.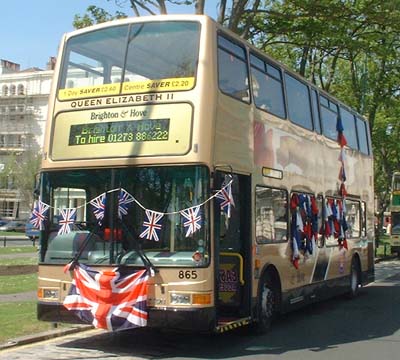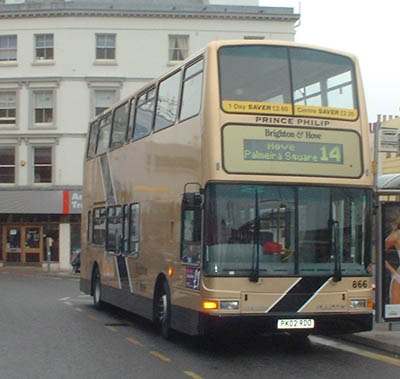 In August 2004 on the Pride Parade Day for the first time buses were curtailed on the outskirts of the city centre whilst the parade took place, buses terminated at Palmeira Square, Seven Dials, Preston Drove, Fiveways, Lewes Road Bus Garage and Rock Gardens.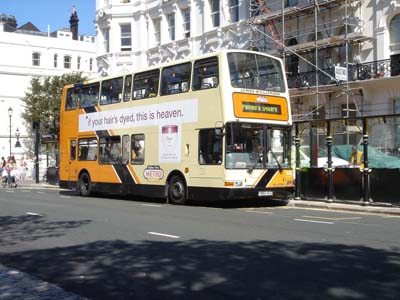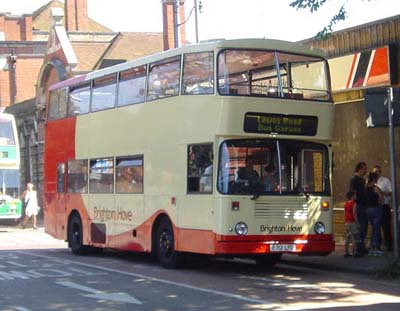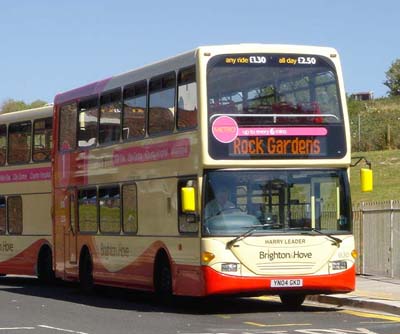 The same arrangements were introduced for the Childrens Parade in May 2007 after a disaster the previous year when marshals refused to allow a break in the parade and buses got held up to such an extent these was one long continuous line of buses stretching as far as the eye could see and beyond at either end of North Street.
Routemaster pulls the crowds
She may be over 40 years old. She may not be in pristine condition. But she certainly drew the crowds.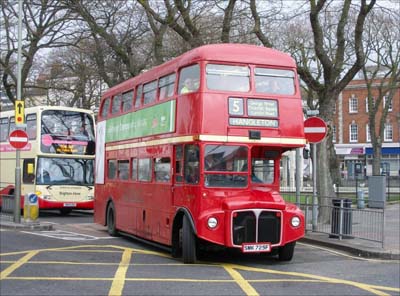 RM 2725 carried record numbers of passengers during its week long visit to the south coast in April 2005 as well as attracting huge interest among B&H staff queuing up to have a go at driving and conducting.
"It was great to see so many people enjoying a nostalgic trip on this wonderful bus", Roger French, who also took a hand at conducting, said. "Many enthusiasts had made the trip down from London to see a Routemaster in unfamiliar surroundings but many local people made a special trip for one last journey on a very special bus".
"A big thank you to driver Dave Ghost for organising the event with the enthusiastic support of Christine Gates who acted as Conductress," Roger French added. "For me it was a real nostalgic journey back more than 30 years when I used to conduct in north London, and with Paul Williams as my driver to Patcham and Simon Holman on the return trip I couldn't' have been in safer hands!".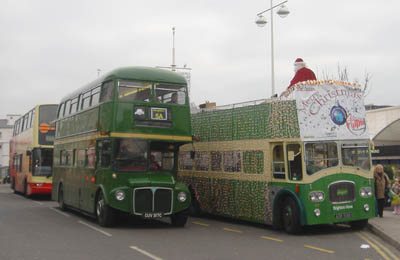 In December 2006 RML 2317 came on loan from Metrobus to help out when our Bristol K broke down prior to its Santa Specials. This was a foretaste of what was to come as in 2009 this vehicle was purchased by Brighton & Hove and painted in a special livery based on the one used by Thomas Tilling in the 1900s before BH&D's formation.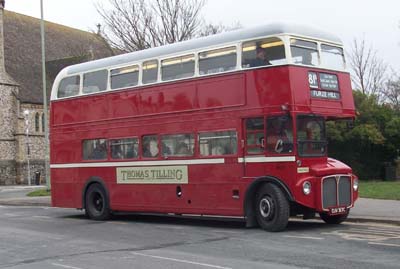 RML 2317 really does look resplendant in its smart colours and it was a real accolade when Ian Allan sponsored the production of a model depicting the livery to celebrate the 60th Anniversary of its monthly Buses magazine in 2010.