Brighton & Hove tickets
Brighton & Hove has been at the forefront of revolutionary ticket developments during the last two decades including the UK's first "mantle-piece ticket", the first Railbus ticket, the award winning Bus ID scheme for young people and the £1 flat fare trial. This section reviews some of the history of these schemes.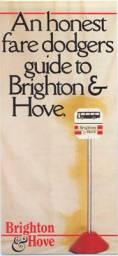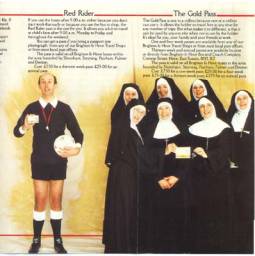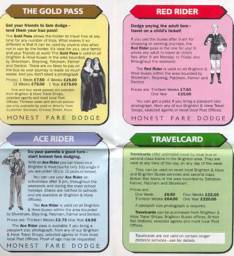 The first ticket innovation introduced after the return of local bus operations to Brighton & Hove in 1986 was branded as the "Honest Fare Dodge". This promoted three new tickets including the revolutionary new Gold Pass which was the country's first 'mantle-piece' ticket. A ticket with no photograph, available for periods of one week and more, it could be used by any member of the family or acquaintances for unlimited travel on Brighton & Hove's buses. By doing away with the need for a photograph it brought a new flexibility to travel around town and was well received by passengers especially as, for the first time, it included an area beyond thew traditional "BATS" (Brighton Area Transport Services) boundaries extending westwards to Steyning and eastwards to Newhaven and Denton Corner.
A Red Rider ticket introduced at the same time gave adults the opportunity to travel at child rate fares after 9 am on weekdays and all day at weekends in return for a fixed sum paid for the initial ticket. The same principle for children was incoporated into a new Ace Rider ticket which gave a flat fare outside of school times of just 10p a forerunner of the Bus ID scheme introduced some years later.
These tickets were promoted with eye catching large sheet posters at roadsides as well as adverts on the sides of buses and colourful leaflets. The nuns, referee and scout characters were very successful at promoting the benefits of the new tickets.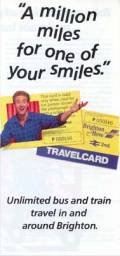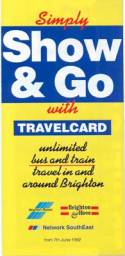 These tickets brought new benefits to passengers using Brighton & Hove's buses along with the long standing and popular Travelcard available on all local buses as well as trains within the Brighton and Hove area. This ticket had been introduced many years earlier and was appreciated for the flexibility it offered on all local public transport. Earlier versions had a unique numbering scheme to confirm validity with a different number for each week of travel rather than a date stamp. Ultimately the ticket was withdrawn due to problems with pricing when the rail industry wanted to introduce significant differential pricing between peak hour and off-peak travel whereas bus companies did not charge premium fares for peak travel.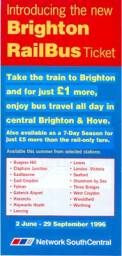 However, Brighton and Hove was one of the first areas in the UK to later introduce a Railbus ticket. For a £1 supplement to the standard rail fare to all the main rail stations from Shoreham through Hove and Brighton to Newhaven passengers could receive unlimited travel on local bus services as well as their return train journey on one ticket. This has proved extremely popular and has become a standard in the transport industry. Season ticket holders can also add bus travel on to their rail season for periods between one week and a year. More recently Brighton & Hove have teamed up with sister company Thameslink (owned by Go-Via in which Brighton & Hove's owners, the Go-Ahead Group, have a majority share) to introduce the extra value Thameslink SAVER which gives a days travel on any Brighton & Hove bus as well as a day return to any Thameslink station from Brighton. The only restriction is that the ticket is not valid on Thameslink trains before 9 am on Mondays to Fridays. Also available is a scheme to purchase a £3 ticket from Brighton & Hove bus drivers which can be handed in at Brighton Station in exchange for £2 off a standard class day return.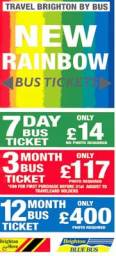 Meanwhile back in the late 1980s Brighton & Hove and Brighton Blue Bus Company introduced a new Rainbow ticket which offered unlimited travel on buses run by both bus companies throughout the area. There were three versions of the ticket covering concentric zones fanning out from the town centre. These three variants were soon merged into just one flexible ticket covering the whole area as it was found that the three zones were causing unnecessary confusion.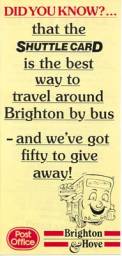 The Rainbow replaced the Travelcard when Network South East (as it was then called) withdrew, ensuring there was still a flexible ticket available on all local buses. Rainbow tickets were sold in scratch-off format as well as the all-zones version being sold by drivers from ticket machines on the buses.
Brighton & Hove also inherited the Shuttlecard which gave unlimited travel on the Shuttle Service 60 running between Mile Oak and Brighton town centre first introduced in 1983. The Shuttlecard was extended to include travel to the Universities and Coldean and then expanded to include all Brighton & Hove bus services. However this ticket was designed to include a photograph even for one week tickets and did not reach its full potential. Research was conducted to find an alternative which became SAVER.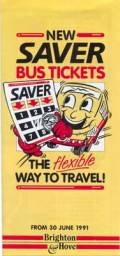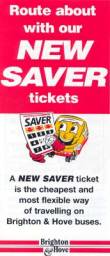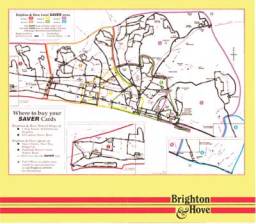 Brighton & Hove launched its SAVER ticket range in June 1991 which have gone on to become the standard value-for-money ticket in the area. Initially there were different versions covering an expanded area from Steyning through to Newhaven (Gold SAVER - which replaced the Gold Pass) as well as Local SAVERs covering smaller segments of the conurbation to try and build on the concept first tried with the zonal Rainbow scheme. There were SAVERs available all day as well as cheaper ones not valid before 9am on Mondays to Fridays. Other versions at concessionary rates were available for Countycard holders and there were versions available for different periods of time from one day through to an annual ticket.
As passengers realised the great value these tickets offered the product range was gradually consolidated and simplified to those tickets which proved the most popular. Brighton Blue Buses also realised the potential of SAVER tickets and soon established their own Blue Diamond version valid on Blue Bus routes. Today, sales of SAVER tickets are still booming as they replaced the need for Rainbow and Blue Diamond tickets when Brighton & Hove merged with the Brighton Blue Bus Company in 1997 offering even greater value for money and a much simplified ticket system for the City. Some SAVER ticket prices are still cheaper than the equivalent tickets over a decade ago.
The key to the success of SAVER tickets has been their accessibility. Available in scratch off format from local shops, supermarkets and post offices the one day, one week and monthly versions can be validated at the convenience of the passenger by scratching off the appropriate dates prior to use. One-day tickets are also available from bus drivers. The one-day and monthly versions at discounted prices for Countycard holders have been particularly popular as have the discounted one-week and three-month tickets for scholars and students.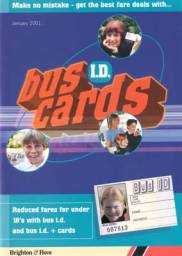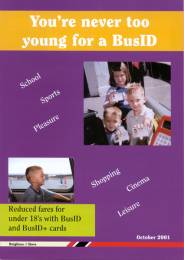 The other most successful ticket scheme introduced by Brighton & Hove has been the Bus ID scheme. Originally conceived as an identity pass to help drivers establish which teenagers were entitled to receive child rate fares, it has gone on to become an award winning scheme which all youngsters from aged 5 to young adults as old as 18 are eager to benefit from. The scheme offers cut price travel at a flat fare of 10p at all times when accompanying an adult fare paying passenger as well as discounts on one day, weekly and three monthly SAVER tickets. After 6 pm on schooldays and all day at other times Bus ID holders travel at a flat rate 30p per journey making the scheme extremely popular and a great encouragement to travel. Bus ID passes are available free of charge for 5 to 15 year olds and a fixed £20 gives a two year extension as a Bus ID+ to last until the end of July following the 18th birthday. Further information about Bus ID is available in the publicity page of this Behind The Scenes look at the Company.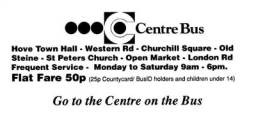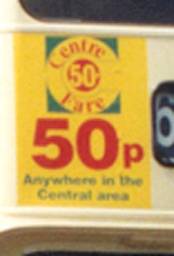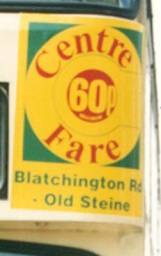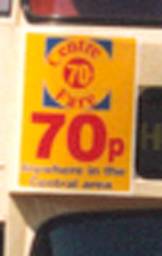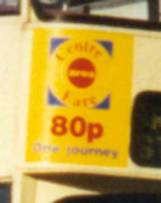 Another success has been the CentreFare. This system introduced a flat fare for all journeys within a central zone covering the centres of both Hove and Brighton in 1993. Prior to that a special CentreBus ran from March 1992 until September 1993 between the Open Market and Hove Town Hall at a flat fare. The service was withdrawn and the flat fare introduced on all bus routes. Gradually the CentreFare area was extended outwards so that it covered a large area from Preston Drove and Fiveways in the north to Sackville Road in the west and The Avenue, Race Hill and Sussex Square in the east. This area still applied to the new CentreSAVER introduced from January 2001 but the idea of a simple easy-to-understand flat fare system was then taken to the ultimate with a bold initiative running as a trial from January to April 2001 of a £1 flat fare on all Brighton & Hove's buses running in an area from Shoreham in the west to Falmer and Newhaven in the east. This trial was extended for six months during the summer season 2001, although this remained until May 2003 when the flat changed to £1.20, and the all day SAVER ticket was reduced to £2.40.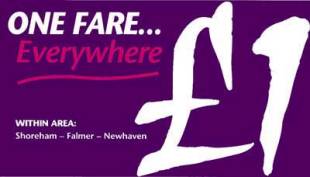 Since then it has changed a few times and in November 2006 the CentreFare made a reappearance this time being £1 in the area from Palmeira Square to Preston Circus. Since then the area has been extended and the price has increased.
In September 2011 Brighton & Hove's new smartcard called the key was launched. Initially this was available to students at the city's two universities and colleges, in March 2012 it was rolled out to all adult passengers who began using it for the popular SAVER ticket as it replaced the scratch-off tickets for 1 day, 7 days and 1 month and date stamped 3 and 12 month tickets which had previously been sold online and in 1 Stop Travel. The transfer over to the key for busID holders began in April 2012.