Brighton & Hove Publicity
Brighton & Hove is renowned in the bus industry for its high standards of quality marketing and publicity. Its marketing achievements have be recognised over the years with a number of highly prestigious awards. This section highlights some of those achievements.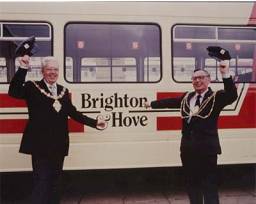 Before the Company formally recommenced trading in January 1986 developments were in hand to introduce a bright new livery recreating the traditional colours of red, cream and black associated with the former Brighton, Hove & District Omnibus Company but to a modern and attractive design. The idea was to create a new image to distinguish the Company from neighbouring Southdown (within which it had been absorbed since 1969) which was continuing to trade.
The new livery was launched by the Mayors of Brighton and Hove at a ceremony on the former boundary between the two towns to coincide with the 50th anniversary of the formation of the original Brighton, Hove & District Company on 26 November 1985. This coincided with a campaign to promote the reactivated Brighton & Hove company.
All the fleet was soon painted in the new colours and the scene was set for many marketing initiatives in the years ahead.
Follow these links for more publicity information:
Bus Times || On Route || Metro || Bus ID || Other initiatives and Branding || Bus Guides || Other Promotions