Other Initiatives
Plain English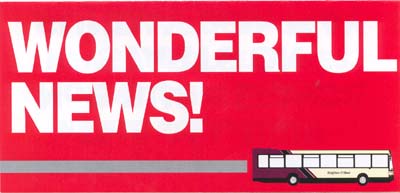 As long ago as 1985 Brighton & Hove was winning awards. That year saw the Company pick up a Plain English Award for its Easy To Use Guide to places to visit by bus from Brighton. The leaflet promoted the varied longer distance routes the Company used to operate throughout the south-east of England which at one time were so extensive that a brochure was even produced for the range of departures available from Guildford!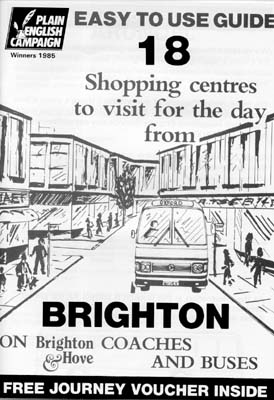 Branding
As part of the build up to the launch of METRO in 1997 separate branding of the main bus routes was already being introduced in stages.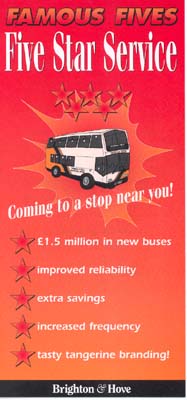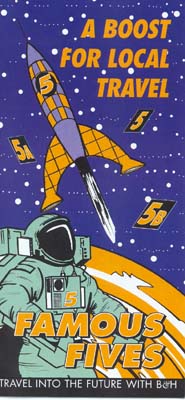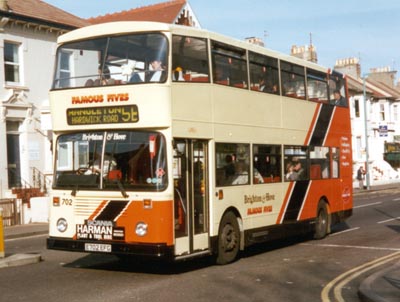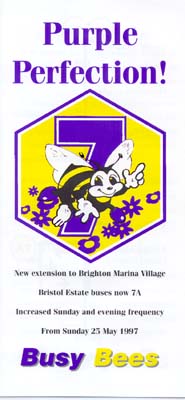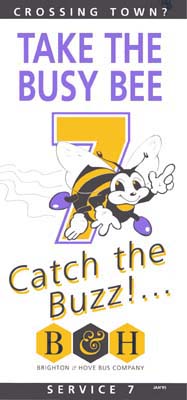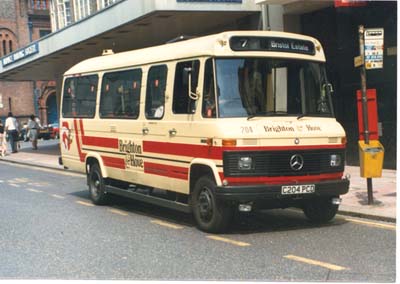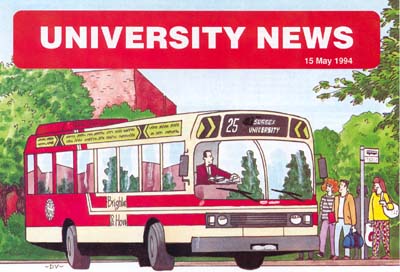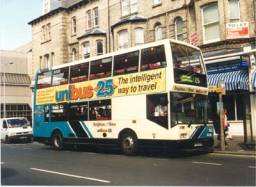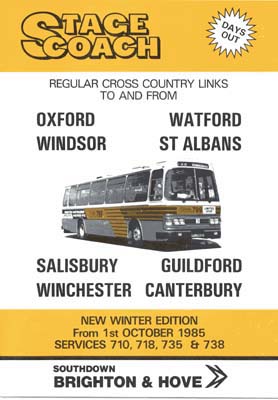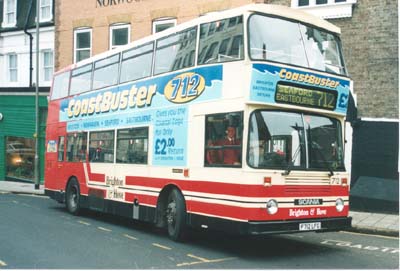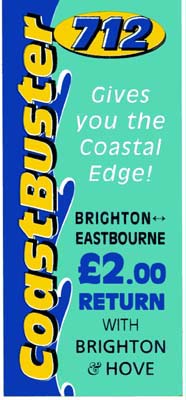 Service 1 received a new logo representing the west to east nature of the route across town, Service 5, 5A and 5B were christened the Famous Fives and way back in 1986 when minibuses were first introduced to Service 7 they became known as the Busy Bees while Service 25 became Unibus some years later. In each case the branding was applied to vehicles and leaflets showing details of the route and times of each service. When the Service 49 became part of Brighton & Hove in May 1997 following the merger with the Brighton Blue Bus company the stage was set to rebrand all five of these routes into the METRO network.
Route branding is not new to the bus industry. Back in the early 1980s the long distance routes were branded as Stagecoach, a name which coincidentally many went on to become more associated with when that Company took over the remains of Southdown in the rest of Sussex later in the decade.
In Brighton & Hove a new attractive Shuttle branding was applied to the revamped Service 60 route in 1983 as part of an experiment instigated by East Sussex County Council who were involved in subsiding bus routes in those pre-deregulation years.
Other branding was applied to the popular 712 service along the coast road to Eastbourne in November 1995.
In April 2004 with the arrival of 18 new low floor buses a rear advert campaign commenced, three Brighton business people added their endorsement to the backs of our buses, other adverts for our products then followed.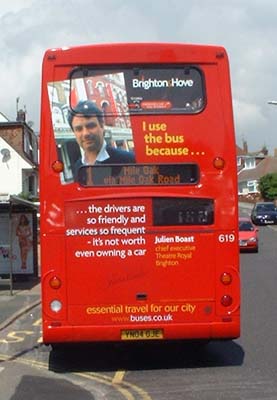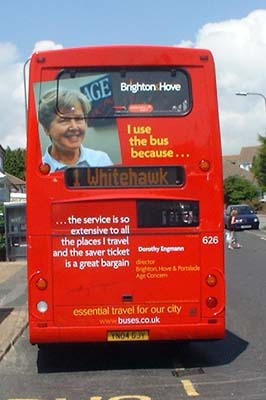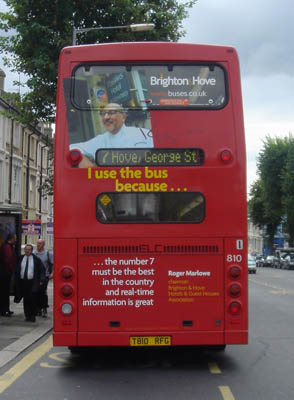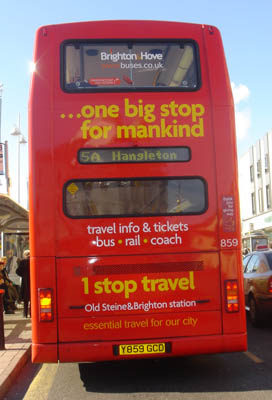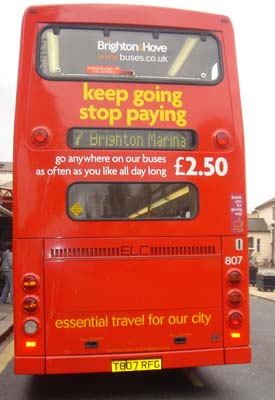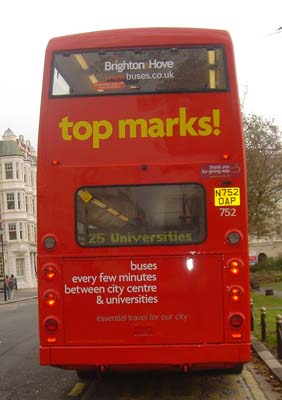 In September 2004 Service 712 was rebranded as Coaster 12, complete with 10 new Scania Omnidekka Low Floor buses. This was refreshed in 2011. Meanwhile routes 28 and 29 were branded as the Regency route in 2007 which was also refreshed in 2011. Route 50 was branded as Shuttle 50 in 2008 which was refreshed when double deck buses were used on the route in 2012. Route 6 received branding in 2008 which was refreshed when it received new double deck buses in 2012.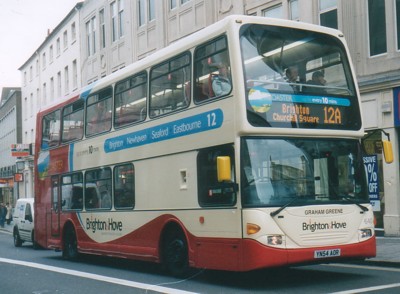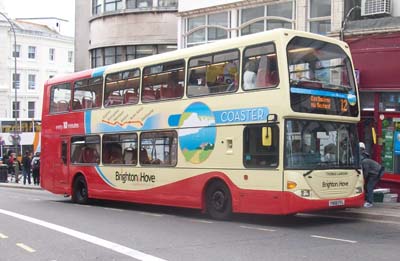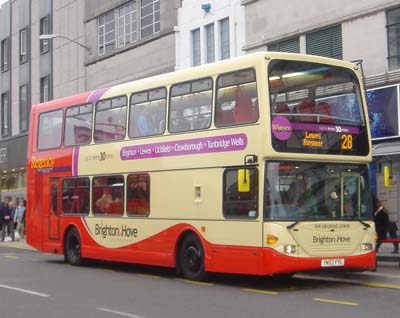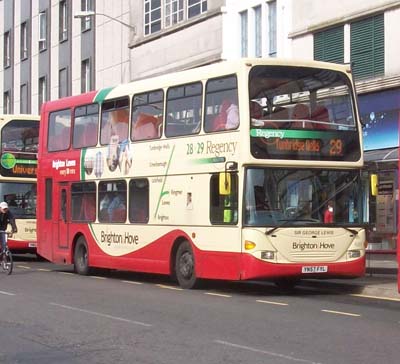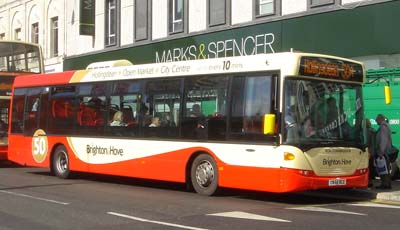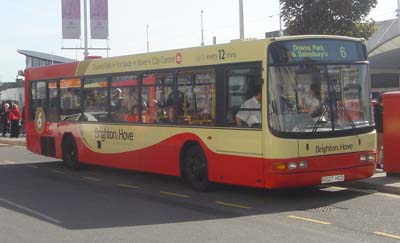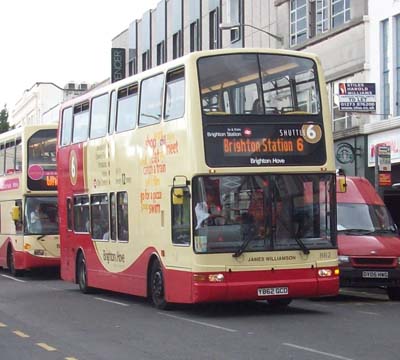 "I'm On The Bus"
A major new promotional campaign got underway in January 2005 and builds on the success of the Company's endorsement campaigns in 2004. Ten buses in Brighton & Hove's new coporate livery have sporting eye-catching t-shape style adverts in a new "I'm On The Bus" campaign featuring passengers who have put themselves forward following a feature in On Route magazine.
There's been a fantastic response from passengers eager to participate in this latest campaign. A whole mixture of people responded of all ages and backgrounds. From these, an initial ten have been chosen to kick the campaign off this month, each with their own bus advert.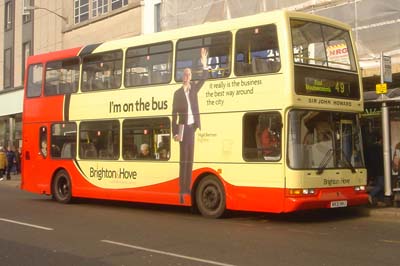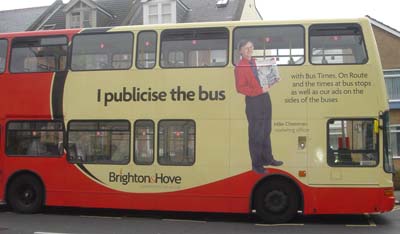 Gilly Smith will be on the coast road buses with two children "taking kids to school is really pretty cool" while Elsa Gillio of the Argus Appeal will be found on the side of a 46 to Hollingbury "they run so frequently you never have to wait long". Ian Horner who lives in Peacehaven reckons "it's so easy to get back home late at night" while Philip Davis reckons "it really is madness to travel any other way in Brighton and Hove". Businessman Nigel Berman who's favourite bus route is the 49 and will be on the side of one of the newly painted buses on the route says "it really is the business - the best way around the city" as Michael Robins from Hove confirms it's "the easiest way for me to get to St Andrew's church and all over the city". Young Elena Trabucchi from Woodingdean will be on the 27/27A route and says "these great super low ID fares make it so easy to meet up with my mates" while Darryl Marks says there's "no trouble of driving in traffic , no hassle of parking and less stress and less fuss". Suzi Silva from Ovingdean who will be featured on coast road buses days "I don't have to worry about bad drivers or trying to find a parking space" and Nimrod Ping reckons "they're reliable and the smart way to travel".
Real life endorsements which are genuine spontaneous comments from real passengers work extremely well for the Company. When so much advertising these days tries to convey images of people or products which the commercial business wants us to believe in or aspire to, it is refreshing Brighton & Hove has real people telling it as it is for them.
Brighton & Hove's 2004 endorsement campaign which featured newspaper adverts as well as bus rear adverts showing leading city personalities who use B&H buses won a prestigous award at the Bus Industry Awards in November 2004 for its innovative use of advertising.
At its peak the 'I'm on the bus' campaign featured over 80 people on the company's double deck bus fleet and this included variations to the campaign including 'the city and the bus' and 'I relax on the bus' as well as 20 staff who carried out a complete range of jobs within the company.
The & Campaign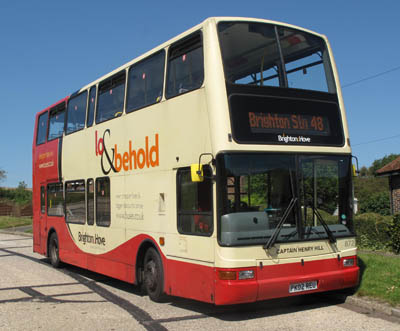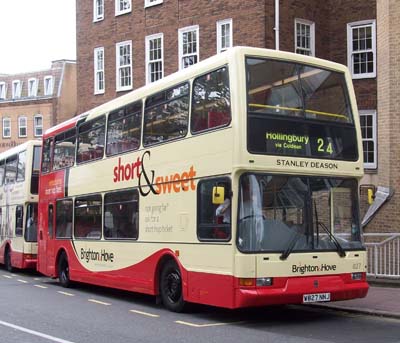 As passengers rightly got more cost concious in the recession hit years around 2008-2011 a new campaign centered around the & symbol highlighting the great value fares on offer including low prices on the internet (lo & behold); for young people (girls & boys); SAVER tickets (forever & a day) and short hops (short & sweet).
Relaxability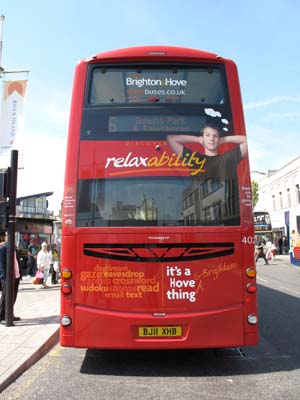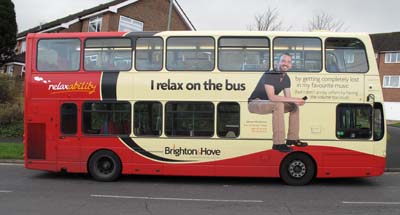 Research in 2010 showed that one of the attributes of bus travel most appreciated by bus passengers is the ability to relax on a bus and not worry about the stress of driving. A new campaign to highlight these benefits featured on the rears of buses as well as some new ads with local people in 'I relax on the bus'.
the key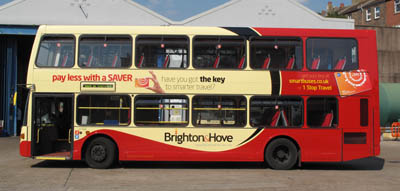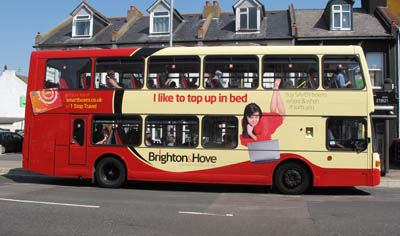 The launch of the key in 2012 to all passengers has seen a new campaign highlighting the great value prices available when buying tickets this way as well as the convenience of topping up anywhere.