Names on the buses 947 James Hurdis
Connections with Brighton and Hove : In the 18th century, many small villages had vicars who were well known and scholarly men. They were expert in subjects ranging from science to history. Typical of them was the Rev James Hurdis, Vicar of the peaceful parish of Burpham near Arundel. Hurdis was born in Bishopstone, not far from Seaford, in 1763. He went to St Mary Hall and Magdalen College in Oxford. He wrote several books of poetry and one poem, The Village Curate, achieved widespread fame. Hurdis wrote it while at Burpham and today old editions of books containing it reach high prices. He also wrote several books of prose, among them a study of works by Shakespeare. Sadly, Hurdis did not live long, dying in 1801, but his best work has lived on.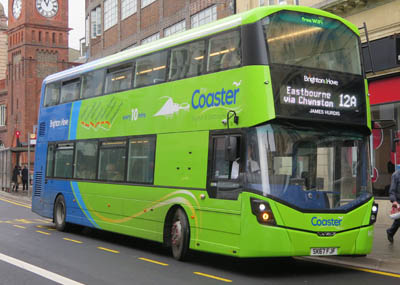 947 Mercedes Streetdeck on Route 12 - carried name since September 2017.