Names on the buses 942 Ralph Reader
Connections with Brighton and Hove : Ralph Reader was the founder and producer of the celebrated Gang Shows for Scouts which enjoyed immense popularity for more than half a century. Born in Crewkerne, Somerset, Reader was orphaned when he was eight years old He moved to Denton near Newhaven where he was brought up by aunts and uncles and joined the Scouts when he was 11. He got a job as a delivery boy with a relative who was a greengrocer and his employer used to take him after work to the Hippodrome theatre in Brighton where he saw many famous stars of the day in music hall shows. Reader put on shows with the 2nd Denton and South Heighton Scouts and they proved extremely popular. He continued to have menial jobs and while still a teenager moved to the USA. It was there that he produced his first Gang Show on Broadway. In 1932 he brought the concept to London where it was an immediate success. Scouts became the first amateurs to appear in the Royal Variety Performance in 1937 and the Gang Shows entertained troops throughout the Second World War. Among youngsters who appeared in the shows were Peter Sellers, Tony Hancock and Dick Emery. After the war was over, the Gang Show concept continued and was popular until Reader's death in 1982 aged 78. A blue plaque was unveiled in 2011 on his childhood home in Heighton Road, Denton.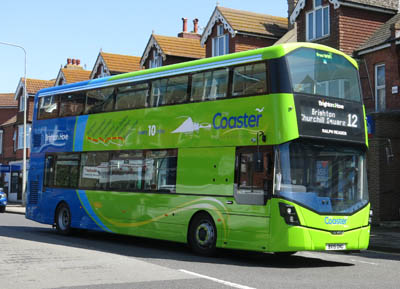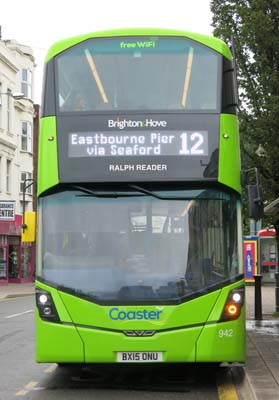 942 Mercedes Streetdeck - carried name since delivery in April 2015 on Coaster Route 12.