Names on the buses

937 John Nathan-Turner
Connections with Brighton and Hove : John Nathan-Turner was celebrated for producing BBC's Doctor Who during the 1980s. He was extremely high profile and well known to audiences around the world as the series reached cult status. During his time, he cast Peter Davison, Colin Baker and Sylvester McCoy as the enigmatic doctor, each change creating enormous interest. Doctor Who was filmed in Sussex on several occasions. Locations included Brighton beach in 1980, Telscombe Cliffs in 1986 and East Dean, the Seven Sisters and Black Rock in 1969. JNT, as he was usually known, lived for many years on the coast at Marine Drive, Saltdean. He was also a well-known personality in Brighton, putting on numerous shows at the Theatre Royal, including pantomimes and fundraising concerts. Born in Birmingham, he joined the BBC as a floor assistant and went on to become the longest serving Doctor Who producer. A controversial figure, he was openly gay and extremely outspoken, especially about the series even after he had long left it. He was in poor health in later life and died in 2002 aged only 54.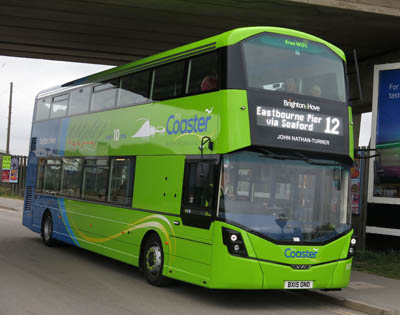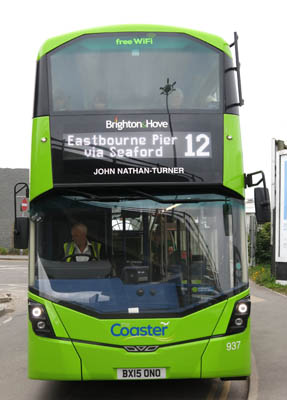 937 Mercedes Streetdeck - carried name since delivery in April 2015 on Coaster Route 12.