Names on the buses 934 Richard Jones
Connections with Brighton and Hove : Richard William Herbert Jones was one of the top Art Deco architects in the 1930s and specialised in seafront buildings. Usually called RWH Jones, he is best known in Sussex for designing Saltdean Lido at a time when open air pools were in vogue. The handsome lido was highly praised when completed in 1938 but closed soon afterwards during the Second World War. It did not reopen for almost 20 years following the end of hostilities and had a chequered history after that. Although becoming a listed building, the Lido was never a commercial success and has been closed more often than open. A group has been formed to revive it and has been given grant money for restoring the Lido to its former glory. Jones designed the nearby Ocean Hotel which also opened in 1938. It has since been much modified by additions and has been converted into luxury flats. At one time owned by Butlin's, it has-been likened to a modern ocean liner run aground. Other work by Jones include, in Saltdean Teynham House and Curzon House in Chichester Road East and Marine View in Marine Drive. He also designed St Margaret's flats in Rottingdean. He died aged 65 in 1965.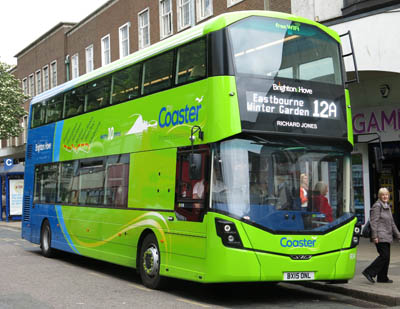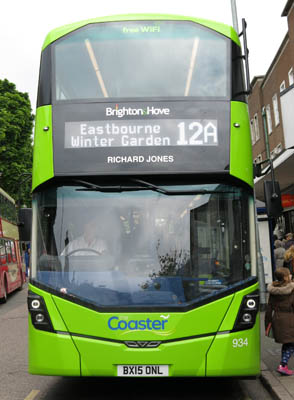 934 Mercedes Streetdeck - carried name since delivery in April 2015 on Coaster Route 12.