Names on the buses 930 Tirzah Garwood
Connections with Brighton and Hove : Tirzah Garwood was a notable artist and the wife of war artist Eric Ravilious from 1930 until his death in 1942. Born in 1908 to a military family, she was educated at West Hill School in Eastbourne. She swiftly showed promise as an artist and wood engraver. She later studied at the Central School of Art. She gained many commissions including one from the BBC to refashion its coat of arms. Garwood married Eric Ravilious in Kensington in July 1930 and he was already well known by then. They both loved the Sussex countryside which inspired much of their work. They had three children. Garwood suffered from breast cancer and during her recovery wrote an autobiography. Ravilious became a war artist and his plane went missing off Iceland in 1942. His body was never recovered. Garwood spent her later years in Essex, marrying again and resuming her career as an artist. But the cancer returned and she died in 1951. A memorial exhibition was held at the Towner Gallery in Eastbourne in 1952. Two of her paintings are in the Towner Gallery, which also has the largest collection of her husband's work.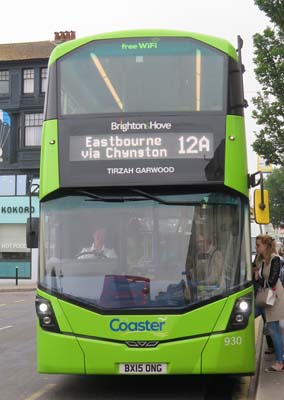 930 Mercedes Streetdeck on Route 12 - carried name since July 2017.