Names on the buses 927 Henry Coxwell
Connections with Brighton and Hove : Henry Coxwell was a pioneer balloonist who lived for some years in Seaford, where he had a balloon factory in Richmond Road. Born in 1819, he became interested in balloons as a boy, and made his first ascent in 1844. In 1847 he made a night flight above London during a storm. The weather conditions damaged the balloon, producing a 16ft tear in the fabric and the balloon fell to earth. Coxwell and his fellow aeronaut Albert Smith only survived when it became caught on some scaffolding. He became a professional balloonist in 1848 and made ascents from several locations in continental Europe. In 1862 he constructed a 93,000 cubic feet balloon called The Mammoth, and used it to make what proved to be a record-breaking ascent from Wolverhampton. It reached 37,000 feet, about seven miles. Coxwell's companion on this flight, Dr James Glaisher, who was making investigations into the earth's upper atmosphere, became unconscious during the ascent and Coxwell lost all sensation in his hands. Luckily he managed to pull the valve cord with his teeth just in time and the balloon landed safely near Ludlow in Shropshire. Coxwell retired as a balloonist in 1885 and died in Seaford in 1900. He has a memorial plaque in St Peter's Church, East Blatchington.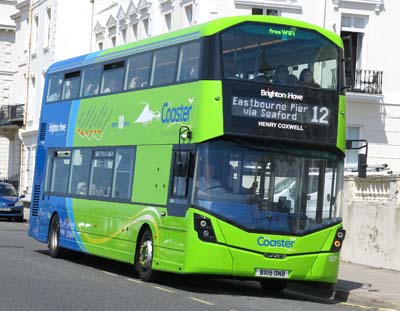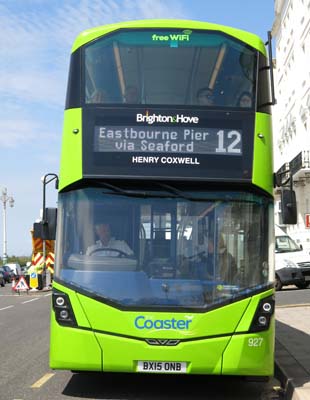 927 Mercedes Streetdeck - carried name since delivery in March 2015 on Coaster Route 12.