Names on the buses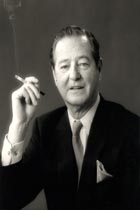 711 Sir Terence Rattigan




Connections with Brighton and Hove : In the Sixties, Sir Terence Rattigan was widely regarded as a stuffy, conservative playwright whose work lacked realism compared with that of younger men such as John Osborne. But there was a quality to Rattigan's work which has seen his stock steadily increase since then and his main plays are widely revived. Born in London in 1911, Rattigan spent many years in a seafront house at Kemp Town in Brighton. There is a blue plaque on the wall. He was educated at Harrow and Oxford before securing early success as a playwright with the comedy French without Tears in 1936. After the Second World War, he became a major dramatist. The best known of his plays are The Winslow Boy, The Browning Version, The Deep Blue Sea and Separate Tables. Rattigan was bitter when his reputation declined in the Sixties. He also had problem as a homosexual in an era when gay relationships were still a crime. His sexuality had to be a secret from most people. In Brighton he was part of the theatrical set, living close to Sir Laurence Olivier and Sir John Clements. While there he made a lucrative living from screenplays such as The Yellow Rolls-Royce. Rattigan moved to Bermuda for a time after contracting leukaemia. He returned to Britain in the Seventies when he was knighted and his reputation slowly revived. He died from bone cancer in 1977. He is now widely seen as a subtle writer, able to portray emotion and pain with tenderness and finesse.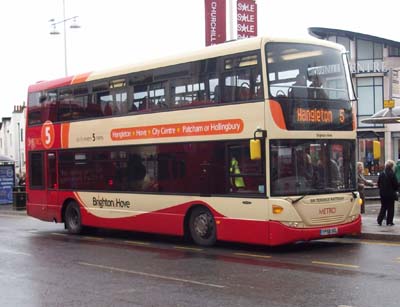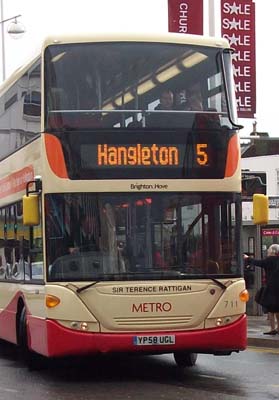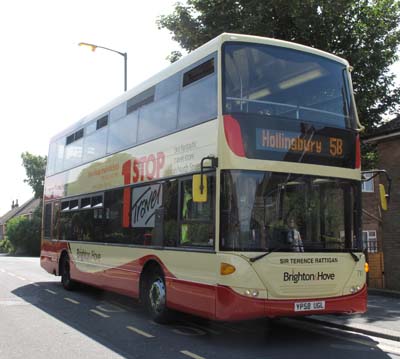 711 Scania Omnicity - carried name since delivery in January 2009. Bus repainted into standard livery June 2013. Bus sold in April 2018.