Names on the buses
469 Lew Norris
Connections with Brighton and Hove : Lew Norris, who lived in Hove, was the designer of high speed Bluebird cars and boats for Donald Campbell who broke land and water speed records in them. His company, set up by Lew and his brother Ken, also invented the automatic sea t belt and produced an early go-kart. The Norris brothers, based in Haywards Heath, went ahead with Bluebird despite the death on Loch Ness of his rival John Cobb. Lew was chief designer of the boat which won the water speed record seven times for Britain between 1955and 1964, Campbell used the Bluebird car to break the land speed record in the USA. Campbell was killed on Coniston Water in 1967 while travelling at more than 300 mph. The Norris brothers flew to the Lake District and found there had been no design fault in the boat. Norris designed the automatic seat belt used in all cars today. Previously they had been fixed. He also invented the go kart for young people and went at more than 60mph in it during a test run. A trained pilot, Norris flew often to Shoreham when living in the Channel Islands until he was 75. He then moved to Hove and continued working until near his death in 2009. He was survived by his wife Beryl and their three daughters.
(Photo shows Lew Norris (centre) with chief mechanic Leo Villa, Ken Norris and (right) Donald Campbell with a model of the Bluebird CN7 car)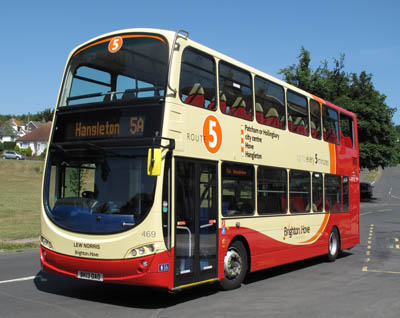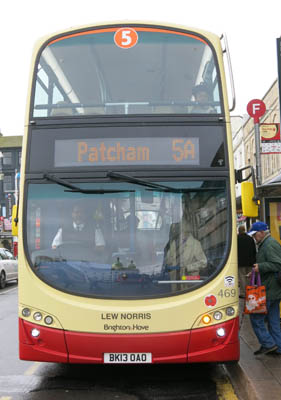 469 Volvo Gemini - carried name since delivery in June 2013 on Route 5. Name removed July 2018.