Names on the buses
56 Maurice Tate
Connections with Brighton and Hove : One of the greatest bowlers ever to have appeared for Sussex, Maurice Tate was also a gifted batsman. Born in Brighton in 1895, he started his career with Sussex in 1912. He was the son of a Sussex spinner, Fred Tate. After the First World War, he established himself as a batsman, scoring more than 1,000 runs in a season for 11 consecutive years. He made a double hundred against Hampshire in 1921. As a spin bowler, he enjoyed limited success until his captain, Arthur Gilligan, in 1922 told him to change his style.
Tate then transformed himself into a tireless fast medium bowler who soon became a fixture in the English side, taking a ball with his first delivery in Test cricket. He took 200 wickets in county cricket in each season from 1923 to 1925 and his batting did not suffer at all despite the huge workload. Touring Australia in 1924/5, he took 38 wickets, still an overseas record for an Englishman in an Ashes series.
Tate hit five centuries for Sussex in 1927 and two years later scored his only Test ton against South Africa, but his batting declined after that. He continued to bowl well for Sussex until retiring at the end of the 1937 season. He died in Wadhurst in 1956.
Tate did the double of 1,000 runs and 200 wickets three yeas in a row. His career record was more than 20,000 runs and 2,784 wickets. He took three hat tricks in his career and was a Wisden Cricketer of the Year in 1924. The Tate Gates at the county ground in Hove were named after him.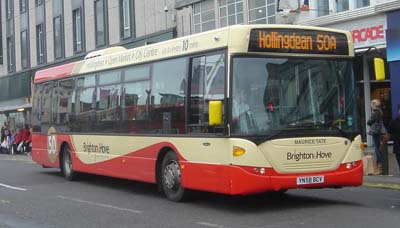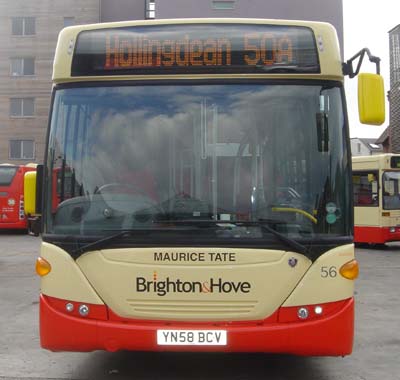 56 Scania Omnilink carried name since delivery in September 2008, on SHUTTLE 50.