Names on the buses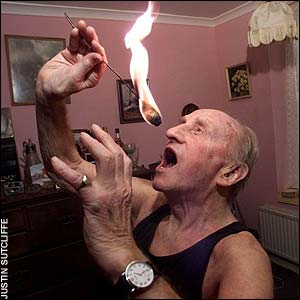 51 Ron Cunningham
Connections with Brighton and Hove : Ron Cunningham liked to be known as The Great Omani during his long career as a stuntman which lasted eight decades. An admirer of Houdini, Cunningham became an escapologist when a young man and thrilled crowds over much of Britain with his daring feats. A particularly hazardous stunt was to jump off the West Pier in Brighton in chains before taking well over a minute to surface triumphantly above the waves. Cunningham also stood on his head when only half an inch from vertical cliffs at Peacehaven. He regularly lay on broken glass and often set himself alight, usually without any ill effects. He even broke glass bottles on his neck.
Based in Brighton and Hove for much of his life, Cunningham eventually became the oldest stuntman in the world. He wrote an entertaining memoir called The Crowd Roars. He was popular at children's parties, always performing his fire eating stunt first to keep the youngsters in order.
Cunningham gave his final performance when well over 90, fire eating at the Bedford Tavern in Brighton. He died of cancer in 2007 aged 92.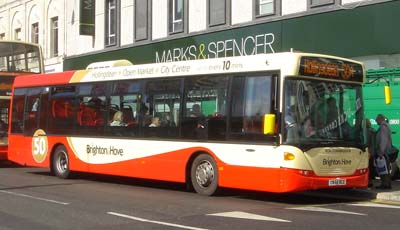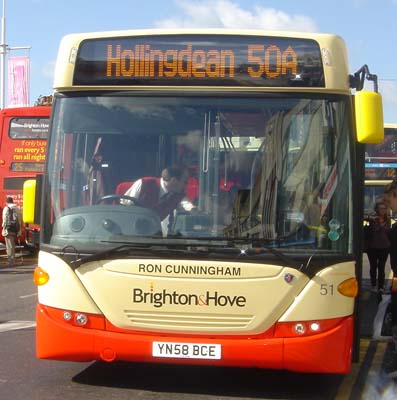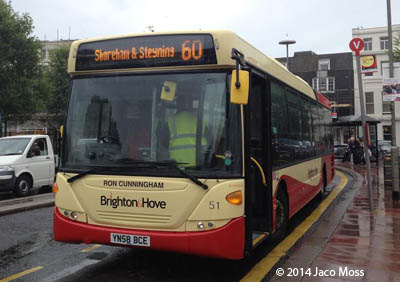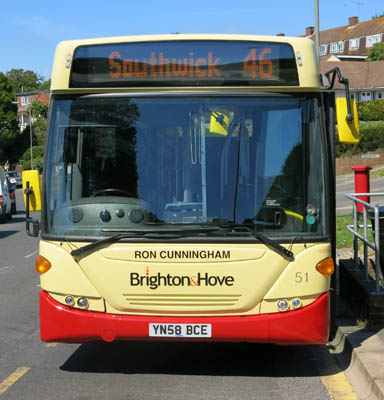 51 Scania Omnilink carried name since delivery in September 2008, on SHUTTLE 50. SHUTTLE 50 branding removed February 2012.